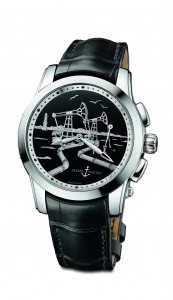 With one of the largest showcases of luxury Swiss watches in Texas, Zadok Jewelers is able to occasionally feature truly special timepieces, and right now, we have just that with Ulysse Nardin's Hourstriker Oil Pump.
Ulysse Nardin represents the finest in Swiss watch manufacturers. Ulysse Nardin's timepieces exude the elegance and experience that only comes with more than 150 years of experience. In the past fifty years, the company has become one of the foremost watchmaking innovators by creating timepieces with stunning complications.
This wonderfully unique watch is a perfect encapsulation of Houston's core economic driver and is a must-have for those who have dedicated their careers to oil and gas.
This Ulysse Nardin timepiece is a part of their Exceptional Collection and is extremely limited. With just 18 (yes, that's just eighteen, as in less than twenty) total pieces in rose gold and another 18 in platinum, this extraordinarily rare piece will be a unique focal point of even the most discerning of collectors.
This singular design strikingly displays a realistic oil field with minimalistic lines. The timepiece is only possible through Ulysse Nardin's mastery of the nearly lost art of enameling. But the Swiss watch maker raised its game by including an element of hand-engraving to this watch, which is only possible through countless hours of work by masters of their craft.
Finally, the Hourstriker Oil Pump collection honors this very special industry with a deceivingly complex hourstriker mechanism that moves the oil pumps both on the hour and on request. This striking mechanism, known as Jaquemarts, brings the scene to life and makes this watch stand alone. Ulysse Nardin is one of only a handful of watchmakers to still use this complication.
As the only certified Ulysse Nardin retailer in Houston, you'll only find the Ulysse Nardin Hourstriker Oil Pump at Zadok Jewelers.