Jewelry shopping can be a daunting experience. Whether you're shopping for a gift, looking for jewelry for your wedding or wanting to treat yourself, finding that perfect piece of jewelry can be challenging.
You might be overwhelmed by the hundreds of options available, which is why choosing a trusted jeweler will make a world of difference.
Discover some of the many reasons a jewelry store like Zadok Jewelers is the best option if you want a stress-free shopping experience.
Well-curated selection
Big box stores focus more on quantity than quality. They buy products in bulk, so expect generic designs and mass-produced pieces that you see almost everywhere. Independently-owned jewelers, on the other hand, are typically more selective and mindful of quality in choosing which collection to showcase in their showrooms.
If you're looking for a unique piece of jewelry to call your own, then your local jeweler is the best place to find it. At Zadok Jewelers, expect a diverse range of established names and up-and-coming brands in our Houston showroom.
Shop bespoke in-house designs like the Zadok Collection, or unique handcrafted pieces from independent designers and local makers that are extremely hard to find elsewhere.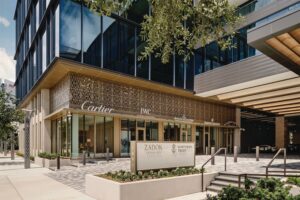 Professional expertise
Big box stores train their employees on pushy sales tactics rather than investing on jewelry education. If you don't have an idea of what to get for yourself or a loved one, our sales staff will provide you with the best options that fit your requirements, and will help you narrow down that list.
As a seventh-generation family of jewelers that served in the early days of the Yemen royal court, we are one of the most trusted names in the jewelry industry. We provide in-depth knowledge of all things related to jewelry and luxury watches so you can make an informed decision.
We have GIA-graduate gemologists and certified watch experts on staff to help you with your purchase. Our staff undergoes continuous gemological training and travel to trade fairs to learn something new about the industry.
Personalized service
Independent stores like Zadok Jewelers provide a much more personalized experience than a corporate retail store. As a family-owned business with decades of experience, we take the time to get to know all of our customers, and to ensure they get what they want.
We help customers find the right piece of jewelry they need today, but also do everything we can to ensure that they're a customer for life. We're not here just to make a sale, but to build lasting relationships.
We go above and beyond to make sure you love what you buy with your hard-earned money. We get to know your preferences, such as the colors you love and the styles you prefer so we can recommend the best on your next purchase. We become your personal shopper by offering a concierge jewelry service.
Aftercare service
All jewelry and luxury watches need occasional cleaning and servicing. Jewelry chain stores may offer to have your jewelry pieces cleaned or repaired, but some of them don't do it in-house and will instead send it to a third-party service provider.
At Zadok, we offer after-sales service to keep your precious pieces in prime condition. Our in-house team of repair specialists will have your diamond engagement ring or Swiss luxury watch looking good as new.
Custom order
Most jewelry chain stores do not offer customized services. At Zadok, we understand that you have very specific tastes and want to be involved every step of the way to ensure you love the end result.
If you're after a piece of jewelry and it is not currently available, we can have it ordered specially for you. We also offer bespoke jewelry crafted on-site in our design studio. We can remake an old piece or create something from scratch based on your vision. At the end of the day, our goal is to make your jewelry dreams come true.
Community support
Shopping at your local jewelry store means supporting the local economy. Zadok's connection to Houston runs deep. In fact, we're one of the oldest jewelry stores in Houston TX, and we take pride in being a part of Texas' watch and jewelry community. We also actively support non-profits like Trees for Houston, and volunteer our time to support the local causes we believe in.
Making the right choice
Buying jewelry is a complicated process, and is one of the biggest investments you'll ever have to make. It is not a decision to be taken lightly, and will require the assistance of an expert like Zadok Jewelers.