Wedding rings are something you'll wear for the rest of your life, so shopping for them is a task that should not be taken lightly.
Before you even start, you need to be clear about what you want and agree on your choices — from the styling of the ring to the stone to the overall price.
Follow these tips to find the perfect wedding ring you'll love wearing every day.
Shop ahead of time
Give yourselves plenty of time to find the perfect wedding band. This way, you won't have to feel rushed when making your selections, and prevent settling for an inferior or second-best ring just because you're pressed for time.
Just as finding the perfect wedding ring takes time, so does creating the perfect wedding band. So if you're having your rings custom made, you'll want to provide the jeweler with even more lead time. If possible, start your ring shopping pursuit several months before the wedding.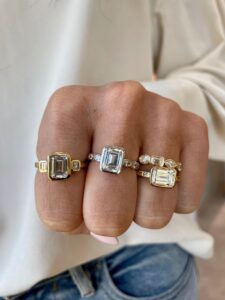 Set a budget and stick to it
Based on industry average, couples spend 3 – 5% of their overall expenses on wedding bands. Discuss with your partner how much you're willing to spend on wedding rings, and agree on an amount you both feel comfortable with.
Determining a budget early on will quickly narrow down your list and will help you find "the one" right away. You also avoid setting yourself up for disappointment. If you don't have a budget in mind, you might end up coveting a ring that is out of your price range.
Once you find a jeweler to work with, be honest and upfront about your budget. You'll be surprised at the number of options that are available for every budget.
To meet your budget, you can ask your jeweler for more affordable alternatives, or play around with the metals and styles. For example, you can choose white gold over platinum. Both look very similar in appearance, but white gold is typically more affordable.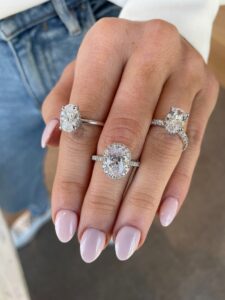 Decide if the rings will match or not 
You also need to decide if you want a unique wedding ring, a ring that matches your engagement ring, or a ring that matches your partner's.
If you're looking for something more unique than what you see in the jewelry cases, you can have your rings custom made according to your specifications.
But if you want matching wedding rings, there are many ways to go about it. You can have both wedding rings engraved with your initials or wedding date, or your birthstones incorporated to celebrate your love for each other.
Consider both your lifestyles
Wedding rings are typically made from 14-karat gold, 18-karat gold, or platinum. 14-karat gold is the least expensive, 18-karat gold has more gold content, while platinum is the most expensive but is more durable than gold.
If you have a very active lifestyle and are always on the go, choose rings that are low on maintenance and durable. Those who also frequently work with their hands should choose a sturdy metal, such as platinum.
For those who don't want to sacrifice sparkle for durability, you can also opt for a channel set wedding ring, where the stones are protected by two walls of metal and are less likely to snag on clothes.
Choose a reputable jeweler
Be sure to do plenty of research before choosing your jeweler. It's best to choose a store that has been in business for a long time and has an outstanding reputation within the community. This way, it will still be around if you need ring maintenance, cleaning, or repair.
If you're searching for the best place to buy men's wedding bands, choose a jeweler that sells a wide variety of pieces and can offer you an array of services.
Look for one with a GIA-certified gemologist to help you find the right stone, a designer to craft your custom pieces, and a bench jeweler to repair your damaged jewelry.
Don't be afraid to ask questions
It can be intimidating to talk to a jewelry expert. But this is the perfect opportunity to get answers to your most troubling jewelry-related questions. Remember that jewelers are there to help you, so let them know your preferences and budget. 
Here at Zadok Jewelers, our staff will ensure you have a pleasant experience throughout your visit, and will promptly address your concerns. Let us know what you want in your wedding rings, and we'll present you with the best options available. We also offer aftercare services so you'll know that your wedding rings will be in good hands long after the ceremony is over.