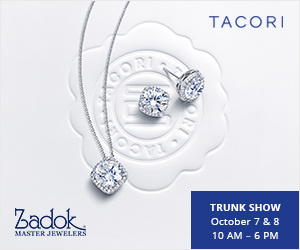 An Exclusive Two-Day Tacori Event You Don't Want to Miss!
Zadok Master Jewelers is pleased to invite you to the upcoming Tacori trunk show in Houston, a dazzling two-day event. Discover over 500 Tacori bridal, fashion and one-of-a-kind designs, all exceptionally handcrafted works of art designed to reflect the confident, passionate and unique personality of the wearer.
Zadok will host the Tacori trunk show October 7th and 8th from 10 AM to 6 PM at our showroom on Post Oak Blvd. Reserve your spot now!
If you plan to shop for a Tacori engagement ring or wedding band in the near future, this exclusive jewelry show comes at an excellent time for you to take advantage of Tacori's "Fall in Love with Platinum" Promotion, ending December 12th. Check out the promotion details and make plans to attend this exciting trunk show in Houston at Zadok Master Jewelers.