Back to all
Blog, Tacori Bridal
Tacori Platinum Engagement Rings: "Fall in Love with Platinum" Promotion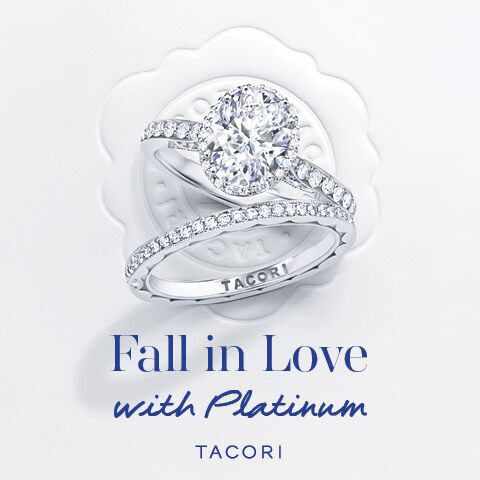 You've fallen in love and are ready to shop for the perfect ring. Knowing there is no better way to express the strength of your love than with one of the coveted Tacori platinum engagement rings, you begin your search. What an excellent time for it!
Purchase her engagement ring during Tacori's "Fall in Love with Platinum" promotion and you can earn a $500 Platinum Promotion Gift Card to use toward your future purchase of a Tacori platinum wedding band. Purchase the wedding band before the promotion ends and you can earn a $250 Platinum Promotion Gift Card for a subsequent Tacori platinum purchase. It's like Tacori is paying you to shop!
To earn a promotional gift card, make your purchase before December 12, 2016 from an authorized retailer participating in the Tacori Fall in Love with Platinum Promotion. Zadok Master Jewelers in Houston, TX is your authorized Tacori retailer.
Your promotional gift card must be used on your Tacori platinum purchase by June 30, 2017. See additional terms and conditions of the Tacori special offer here or contact Zadok Jewelers for more information.
About Tacori Platinum Engagement Rings & Wedding Bands
When you propose, you want to present an impressive, unique engagement ring that reflects your endless love. You want a ring you know she will cherish, one that dazzles everyone who sees it. As you get on one knee with a Tacori engagement ring in hand, you will feel confident in your selection.
The high-quality, handcrafted Tacori platinum engagement rings are a work of art treasured for generations. Their iconic crescent silhouette design reflects the brilliance of the sparkling diamonds and are a mark of impeccable taste.
Why Platinum Rings?
Popular among prospective grooms as well as collectors and investors, platinum is the preeminent metal for fine jewelry. The strongest precious metal used in engagement rings and wedding bands, platinum is twice as heavy as gold. It is more durable, will not wear away, and provides better protection for the diamonds. The color will not fade over time, plus platinum is naturally hypoallergenic.
Fall is the Popular Time for Buying Engagement Rings & Wedding Bands
Do you hear the ringing of wedding bells? Did you know Fall is now the popular time for weddings?
Back in 2014, the Summer months of May and June were often the most popular months (15% and 13% respectively); in 2016, these Summer months dropped to 12% and 13% each. Now September and October are the most popular months to get married, at 16% each. Of course, whatever month you choose as a couple to wed will become your month.
With the holidays approaching, Fall is also a popular time to buy an engagement ring. Imagine surprising your loved one with the ultimate gift, a sparkling Tacori platinum diamond ring.
Buy Tacori Jewelry from the Experts at Zadok Jewelers
Zadok Jewelers welcomes the opportunity to meet with you and discuss your selection of engagement and wedding rings. Our expert staff can answer any question you may have about Tacori fine jewelry, platinum metal, choosing the perfect diamonds, and more. Request an appointment at our Galleria area showroom in Houston.
Not in the Houston area? We welcome you to shop online. Zadok ships throughout the U.S., as well as internationally on a case-by-case basis. Contact us to learn more.