The greatest band of all time is slated to receive another tribute this May. Swiss watchmaking company, Raymond Weil, created an intricate timepiece to honor The Beatles legacy. Raymond Weil's partnership with Universal Music Group and The Beatles paved the grounds for this exciting collaboration.
The family owned Raymond Weil brand is celebrating its 40th anniversary this year. Part of this celebration is marked with the extremely limited release of their Raymond Weil Beatles Watch. A mere 3,000 of these watches were produced and only 1,000 are to be available in the U.S.A.
This collaboration is especially fitting as the watchmaker has maintained ties to the music community throughout the years. During its history, the Raymond Weil watch company has passed down a passion for watchmaking alongside its strong love for music. The company juxtaposes the way it creates its masterpieces with the same attention to detail of a musician composing their chef d'oeuvres.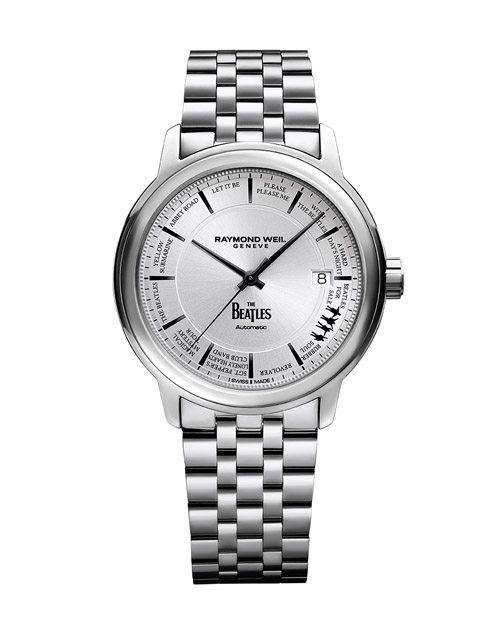 "We could not feel more proud to associate our Brand name with the exceptional Beatles. Raymond Weil has always been closely linked with music, our dear source of inspiration since our early days. We are overjoyed to once again honor great music legends this year and celebrate our 40th anniversary with the Fab Four!", says Elie Bernheim, CEO Raymond Weil.
The Raymond Weil maestro Beatles watch features 12 of the 13 Beatles album titles around the dial, with a different album title between each hour marker. The 4 o'clock hour marker of the dial features a special "Help" album cover silhouette completing an orderly tribute to all the albums. The watch is held with a polished steel bracelet. The case-back reveals the official Beatles logo on smoked sapphire crystal along with an engraved limited edition number.
Zadok Jewelers is proud to have units of this very limited Raymond Weil Beatles collaboration. Due to its limited release, units are expected to sell out quickly. Contact Zadok Jewelers to inquire about this release.