Like so many of you, Zadok Jewelers is proud to call Houston, TX, home. This city is full of life, adventure, and wonderful people — including our dear friends, Jeff and Rachel Bagwell. As one of our community's most beloved power couples, there's more to them than meets the eye. So while some of you might recognize Jeff best when he's in a Houston Astros uniform, we recognize Jeff and Rachel as a generous pair that was kind enough to sit down in our jewelry store in Houston with Lisa Zadok and give us more insight into who they are outside the baseball park.
People would be surprised to know…
We're homebodies. We love being at home with our kids and dogs. I [Jeff] am in the public eye a lot, but it's not my first choice. While we love the people of Houston and all the fans, being at home with our family is just one of the best feelings in the world. At home, we feel safe and comfortable — like we can truly be ourselves with one another.
Our relationship started with…
…friendship. When I [Rachel] first met Jeff, it was at a charity event. We were both married at the time, so I just knew of him. But we shared mutual friends, and our circles looked the same. Some of our friends loved to host Sunday lunches and dinners, so we would see each other there often. Eventually, we built a friendship by talking about our ongoing divorces and life, falling in love through that process.
What keeps us in Houston is…
I [Rachel] love Houston because it's my hometown. I was born and raised here, so it's home to me, and our kids keep us here. We still have a son in high school, and our daughters are in college. Plus, Jeff is still working with the Astros, so being close to all he's passionate about is important.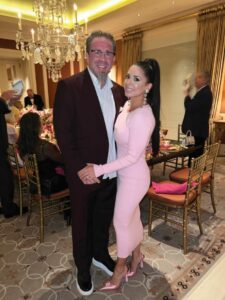 Baseball is…
Rachel: …an acquired taste. I was not interested in baseball prior to knowing Jeff, because I didn't know the sport. Jeff has since explained it to me, and it's a big part of our household and our home. Now knowing the players, the rules, and the sport, I know what I'm watching, and it's more enjoyable.
Jeff: …hard work. I think there's a lot of innate talent that goes into a great baseball player, but I think hard work is part of that. God gives you a certain amount of talent, which I'm grateful for, but it's also about the hard work and the effort that you put in.
Causes we're passionate about include…
There are so many to name, but some of the ones we're really passionate about are Children at Risk, Houston Area Women's Center, Houston's Children Charity for underprivileged and disabled children, Council on Recovery, and Archway Academy.
Helping Others in Baseball & Recovery
In 2020, Jeff opened up publicly about his struggles with alcohol. For years, only those closest to him knew about the challenges, but at the 13th Annual Archway Academy luncheon two years ago, Jeff vocalized his struggles in the most appropriate setting.
Archway Academy is a sober high school focused on creating a positive learning environment for students in recovery from alcohol and substance abuse disorders. After struggling so long with his own demons, the mission behind Archway Academy hit home for Jeff.
"Kids in recovery is a big deal. The burden of this disease on young kids is bad," he said. "I say it's gratifying to work with these kids, but it's also troubling, because I just feel for them. I don't want anybody to have to go through what I've been through."
In addition to his work with Archway Academy, Jeff remains focused on two other important passions in life: his family and baseball. On the field, he focuses on ways the Astros can be better. At home, he's passing down the same life lessons his dad taught him.
"My dad's famous line is, 'Bagwells never quit,'" Jeff said, "and I have used that throughout my life and even with my kids — that we don't quit something when we start."
Quitting is something he's never done, which is a fact he's very proud of, especially when you ask him about his alcoholism recovery. Thanks to the love and support of his family, the Astros, and the community, Jeff has stayed on track with his sobriety. For him, there's a strong correlation between the career of a lifetime and the path to healing.
"I watch these guys that are in the World Series and how hard they work," he said. "I put all my energy when I'm there with them to try and make each one of them better. And I don't make them better by telling them my stats. I try to make them better by the things that I did wrong and how I got out of them. That kind of correlates to recovery. I think the hard work to get sober is a heck of a journey, and I'm one of the lucky ones, as I sit here today with five years of sobriety."
One piece of advice I would share is…
Rachel: …to be the best version of yourself, both physically and mentally.
Jeff: Prepare for change. Things in life always change, whether it's priorities, you, or the things around you. But how you deal with change and adversity determines your legacy and what people will remember of you.
Our favorite jewelry or timepieces are…
Rachel: …my engagement ring from Jeff, because it signifies our love and everything that we've been through together.
Jeff: My wedding ring means the most to me because our marriage means the world. I also love my Panerai watches and the orange Breitling I wear to the Astros games.
When it comes to luxury timepieces and jewelry, both Jeff and Rachel think that Zadok is the best jewelry store in Houston because of our expansive collection of both established and independent brands, as well as our friendly staff who will help you find the right piece for your needs. So if you're looking for the best jewelers in Houston and beyond, Zadok is the place to be.