If you're a modern adventurer or traveler, the Breitling Emergency  2 can literally be your lifeline. This luxury timepiece is the world's first wristwatch with a dual frequency locator beacon.
Zadok Jewelers is a certified partner with Breitling and is carrying the Breitling Emergency 2 in our Houston location. To learn more about this groundbreaking timepiece visit us in the Galleria area or give us a call at 713.960.8950.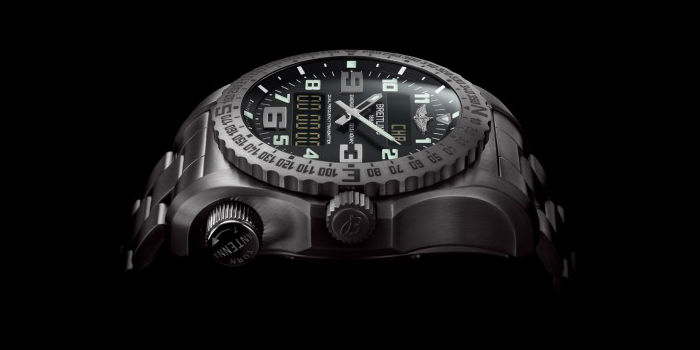 The Breitling Emergency 2 is a followup to their groundbreaking watch from 1995, which was the first watch with an emergency microtransmitter operating on the 121.5 MHz air distress frequency.
A revolutionary tool for pilots, and travelers alike; the original Breitling Emergency saved many lives around the globe. In the years since the original development, Breitling has been working on ways to improve this technology to keep up with rapidly evolving technology.
A masterpiece of high tech miniaturization, this timepiece is now a vital survival instrument for globetrotters. The watch belongs to the PLB (personal locator beacon) category and is equipped with a transmitter compliant with the specifications of the Cospas Sarsat international satellite alert system.
If the wearer finds themselves in an emergency situation, the two knobs on the side of the watch unwind and pull out of each side. By manually deploying these antennae, the wearer activates a dual frequency distress beacon, which transmits for 24 hours.
This two part system emits a 406 MHz digital frequency, which makes it possible to launch an alert from anywhere in the world via the network of satellites Earth's orbit, while the 121 MHz analog frequency is used to guide search and rescue missions whether these are maritime, aeronautical, or land-borne operations.
The Emergency 2 is 5 years of development and it advances micro-technological engineering.  The Emergency 2 also comes with a revolutionary rechargeable battery, which keeps the emergency beacon charged at all times. This revolutionary charger also checks for the smooth operation of the transmitter, ensuring that the Emergency 2 will work when you need it most.
The Emergency 2 is also a multifunction electronic chronograph, equipped with a super quartz movement chronometer certified by the COSC. It's special case is made of titanium and a rubber or titanium band.
Available in black, yellow, and orange. The satin brushed bezel is engraved with a compass scale accentuating the high tech watch.
Learn more about the Breitling Emergency 2 in the video below or get in touch with us!