If you've lived in the Gulf South region for very long, you've undoubtedly been introduced to the iconic work of George Rodrigue, famous for his Blue Dog portraits. If you love the work of "America's Rousseau," don't miss Rodrigue's largest exhibit outside of his native Louisiana right here in Houston!
The Rodrigue family has been kind enough to feature 75 original works of art to the "Rodrigue: Houston" exhibit being housed at West Ave. at River Oaks. The Zadok family has a long history with the Cajun painter and we highly recommend visiting this free exhibit during its stay this summer.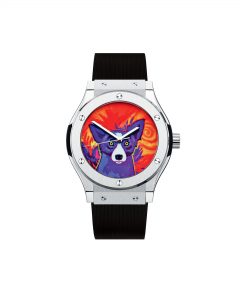 Own an exclusive part of Rodrigue's oeuvre in this limited run timepiece that brings the loveable Blue Dog to the luxury Swiss watch brand, Hublot. Zadok is proud to feature this rare timepiece that's a must-have for any Rodrigue collector. As a certified Hublot dealer in Houston, TX for more than 20 years, we have one of the largest selections of Hublot watches in the country.
With only 150 of these timepieces manufactured, this may be your only chance to own the signature Hublot Blue Dog watch. To see this unique timepiece, call 713.960.8950 to set up an appointment with a Zadok jeweler today.
The exhibit, Rodrigue: Houston, has been extended through July 26, 2015, so time is short to see greatest collection of the artists' works this side of Baton Rouge. Born in New Iberia, south of Lafayette, Louisiana, Mr. Rodrigue was commissioned to paint three presidents and five Louisiana governors. In fact, Rodrigue's original portrait of President George H.W. Bush still hangs in his home office in Houston, but is on loan to the exhibit.
Also featured in the exhibit are 20 original paintings from the private collection of former Houston Astros minority owner Don Sanders. The strong bond between Houston and Mr. Rodrigue expands beyond simple geography. Learn more about one of the most unique art exhibits in Houston on: https://georgerodrigue.com/rodrigue-houston/