Celebrate the man in your life (or yourself!) with a high-performing and stylish timepiece that he will appreciate for the rest of his life.
With the sheer number of luxury watches out there, shopping for your loved one can be overwhelming. Buying a luxury watch is such an important milestone and a personal decision, so take time to do your research, buy from a trustworthy source, and most importantly, enjoy the process. Buy your man a luxury watch only when you feel completely comfortable and confident in your choice. Here are some tips to guide you through the process.
Factors to consider when choosing a luxury watch
With numerous trained watch specialists in our store, come by Zadok Jewelers to browse and learn more about what you like and want. Your first step is to narrow down your choices. Look for a watch that is a reflection of who your man is as a person, then follow this guide to help you choose the best luxury watch for him.
Set a budget
Know how much you're willing to spend. Are you after a more prestigious brand, or are you willing to settle for a lesser-known name with more complications? Once you have your budget down, you can narrow the list and see the options available within your price range.
If this is your first time, consider buying something at the lower end of the price spectrum, like an entry-level, time-only timepiece.
If you are looking to give a watch as an investment piece or as a precious tool that can be passed down through generations, consider looking for a high-end model that gains value over time.
Know the lifestyle
There are mainly two types of luxury watches to choose from: the dress watch and sports watch. If he's the life of the party and attends a lot of business meetings, consider gifting him with a dress watch. These days, most dress watches have understated dials, clean lines, and leather straps. Some of the most popular dress watches among men today are the Cartier Tank, Vacheron Constantin Patrimony, and A. Lange & Söhne Saxonia.
The idea of what constitutes a sports watch is constantly evolving, which is why there are several types you can choose from. If he's the adventurous outdoorsy type, then a rugged, military-esque field watch like the Breitling Navitimer is a great choice. For the water adventurer in your life, a dive watch with a high water resistance rating like the Omega Seamaster is a superb choice. Chronographs like the IWC Schaffhausen Portugieser Chronograph were originally intended for motorsport or aviation, but these days they are also for everyday people who simply like to look at engineering marvels on their wrist.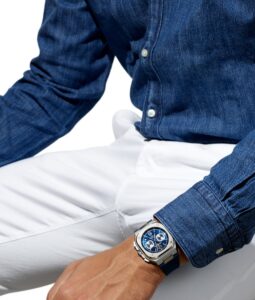 Consider the brand
Once you have an idea of your budget and his lifestyle, it's time to get to know the major players in horology. You don't have to be an expert, but knowing a brand's heritage and history, as well as their strengths and weaknesses, will help narrow your choices down. You can go for haute horlogerie or choose to shop independent brands.
Research on movement
The movement serves as the miracle worker behind a watch and powers all the timekeeping functions and complications. Most people prefer mechanical over quartz, simply because of the latter's craftsmanship. Choose a movement that has been made in-house over those outsourced from third parties.
Choose a complication
Buying a watch is a complicated decision because there's more to them than just being timekeepers. Complications range from something as simple as a date function to something as complex as a tourbillon.
Complications are added either for improved functionality or aesthetic appeal. For example, the GMT complication tells time across multiple time zones, and is great for someone who frequently travels or does business in different countries. Both the chronograph and moonphase complications no longer serve their original purpose, and have now become aesthetic features for those who want a beautiful watch dial.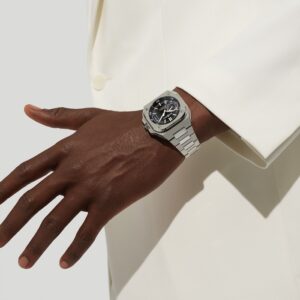 Get the right size
Most men's luxury watches have a case diameter ranging from 32 to 44mm. If your man has smaller wrists, choose a 37mm to 41mm case. If he has larger wrists, he will feel comfortable wearing a 42mm to 44mm case.
It's now easier than ever to buy the perfect luxury watch for men. You can check out the online watch communities, sift through various reviews, or drop by Zadok Jewelers and talk to one of our watch specialists who love and breathe all things watches. We'll walk you through the different features and complications of our watches if you need clarification.